1. With "Calming, Agitation, Anxiety and Anxiety 1" I managed to heal my friend. The sets of frequencies, have been launched all together, for 7 days with white Spooky Remote. After two weeks, repeat the program.
You may have some emotional release while "letting go" of the damage inflicted, but it will be good in the long run to clear these sensitivities from your life. My recommendation is to pick some time when you have a day or two and run the frequencies.
At least for me, when figure out what a specific reaction is caused by, the reaction seems to get worse by not doing anything - once I treat the problem, it resolves rather quickly.
2. I recommend you use the search feature at the top of our page to look up these words. I have used anxiety sets with success. I just plug it in the search bar and use the 20V, I alternated between sine and square. Also, if you are having irregular heartbeat from the anxiety, you can put on a couple of heart sets also, like heart general and heart normalize. They work well also.
3. Consider NLP - Neuro-Linguistic Programming
https://www.themavencircle.com/managing-anxiety-with-nlp/
For more details, please check:
https://www.facebook.com/groups/spooky2/permalink/611872395641334/
https://www.facebook.com/groups/spooky2/permalink/584324228396151/
https://www.spooky2.com/forums/viewtopic.php?f=12&t=8946
4. Do you know if you have any of the MTHFR genetic mutations? If so, you don't process B vitamins correctly. (Short version, do research) Can't process folic acid and it just clogs receptors? Might try running glutathione and other B vitamins. Anxiety is very common for those with MTHFR. Can also discontinue anything with enriched grains or vitamins with folic acid. Also seeing a lot of links with heavy metal toxicity. Can do more clearing of that in Terrain.
This may help you:
https://soundcloud.com/medicalmedium/methylation-gene-mutation?fbclid=IwAR0TqLcDrQ12i3WmCsoKKLIS3EUuNvtAFMesaN5MlHwkA9K9X5zvo4JlLwo
Another genetic SNP. As you learn more about MTHFR, you will see others that come up. These others will change what supplements you can tolerate. Since MTHFR can't methylate vitamins, people will just take already methylated vitamins. But COMT can't tolerate so have to take another form. It's a pretty deep rabbit hole. Dirty genes has lots of info. Other than avoiding folic acid, I would not add something else in without research.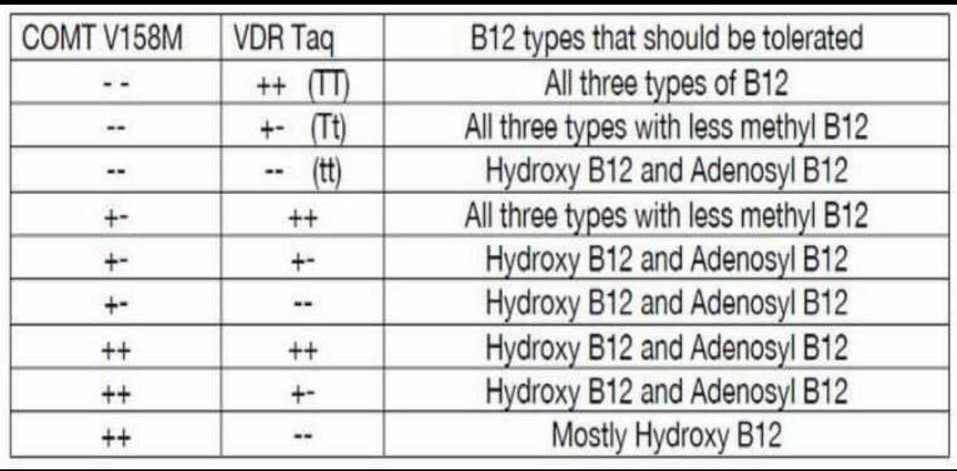 The chart shows how many different SNP combinations you can have and it changes what type of b12 you can tolerate.
5. I too suffer from anxiety, mine having reoccurred recently due to a death in the family which coincided with an associated trauma of sorts.
There are a number of things I've been running to help in this regard, and I believe they are working. Some are ready-made presets, others are custom presets. I run some of them 24/7 on remote, and also do Plasma sessions when I can find the time. I find that by focusing on the energy, relaxation and balancing frequencies, I am able to release some of my anxiety. I am especially hooked on my custom "Feel Good" Plasma preset, but if you don't have Plasma you could make a similar one for Remote.
Here are just a few examples.
Custom presets:
Remote - Endorphins for Depression: a mix of endorphin release, depression and chakra crown frequencies (about 2 hours then loops).
Remote - Energy Vitality - a mix of energy, vitality, kundalini, adrenal gland balance, minerals, and planet mars - (about 1:15, then loops).
Plasma - Feel Good - a mix of emotional balance, rose, feel good overall, serotonin, and gamma brainwave (45 mins several times a week if I can manage it).
Ready-made presets:
Remote - Schulman Resonator
Remote - Kundalini
RX Healing C (for skin, memory, emotions)
6. Using a diffuser with the right oils is a great combination with the Spooky2 frequencies. I'm doing that as I write: diffusing frankincense oil while running my Spooky2 presets. I also plan to use various EOs with our Scalar, which I believe is very effective.
You could also try making an essential oil custom preset, inserting EOs that relax and calm. There's a shell available in the Shell (Empty) Presets folder that allows you to run the essential oils with all the right settings built in.
For more details, please check the link:
https://www.facebook.com/groups/spooky2/permalink/1186346131527288/
7. Look to your diet, meditation, environment, work stressors & relationships etc. Anxiety is not triggered by one simple root cause. It is always a number of contributing factors.
8. I would try a gym and getting a trainer. I have been using Spooky2 and getting great results, but it only augments work done on my body and diet.
9. Have to tried CBD oil. Really helped my son.
10. Gluten has been well documented to cause psychiatric issues including schizophrenia. The gaps diet has healed THOUSANDS of schizophrenics. It's a gut -hormone relationship.
I'd also recommend colostrum powder it's powerful for healing the gut. Most hormones are made there. Also be sure of your nutrients. Methyl b12 and cod liver oil REALLY helped me.
12. Here's a link for a quality colostrum powder. Enhanced Absorption Liposomal Colostrum Powder - Proprietary Colostrum - LD Tech Provides up to 1500% More Bio-Availability Over Regular Colostrum - 50 Grams Travel/Trial by Sovereign Laboratories.
https://www.amazon.com/dp/B01KWH9HFO/ref=cm_sw_r_cp_api_i_RS3zCbRY8M5G3?fbclid=IwAR20ohNFktmjdmFSYXWzreDCBkzyN7i9saRIPbuNpAX18oGmiu7mRba9g-I
13. 5HTP helps with sleep and depression.
14. Support adrenals classic signs of adrenal insufficiency.
For more details, please check the link:
https://www.facebook.com/groups/spooky2/permalink/1208823079279593/