1. It is unclear if you are continuing to apply the program on a daily basis.
If you are not, and stopped as soon as you felt better, suggest that you start application again.
Usually, one will apply a program via contact once a day for 7 days at a minimum.
In your case you may wish to run the sets for more than a week, or at the minimum switch to remote mode after the initial week of contact until you have achieved a more lasting result.
2. We used all bone regeneration programs we could find and circulation, fractures, ankle and pain. We used the plasma. I made a makeshift set up from a box. Also, continued with remote 24/7.
Here is a pic. 2 hours every evening and remote.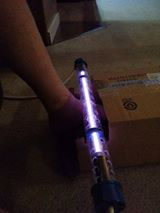 For more details, please check the link:
https://www.facebook.com/groups/spooky2/permalink/655632001265373/