1. I had the same situation a month ago, this is how I cleared it in about 10 days.
(1). I drank 5 oz of colloidal silver solution 20 ppm with 6 drops of oregano oil morning and evening after day 5 only in the evening.
(2). I taped a small dime size flat magnet bn on my jaw [outside] overnight.
(3). Used an inexpensive red pen laser on the inside of infection whenever possible.
(4). I ran spooky 24/7.
The pain disappeared within 36 hours and infection slowly disappeared, I hope this helps.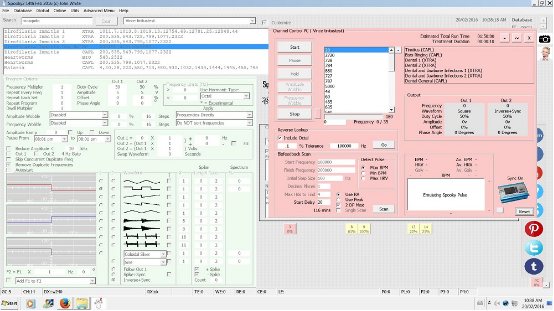 2. You can bypass the GI tract by vaporizing oregano and other oils.

Have patience with the CS, once it starts it will go much faster in an exponential way.

For more details, please check:
http://www.spooky2.com/forums/viewtopic.php?f=18&t=4669
3. Google to find the bacteria that infects the tooth abscess. Then you could search the programs for that bacteria and make your own killing program in a remote killing shell to target it. Just a thought.
4. I use kill and heal and use vitamins and minerals and anti-stress and healing herbs too. My jaw infection seems to be healing but I have been running it for a long time now.
5. It may be worth running the "Healing and Regeneration" preset. I suffered badly from Oral Lichen Planus but since using Spooky2 for other issues I've noticed it has cleared. One of the presets I run continually on Remote is "Healing and Regeneration", as I'm a great believer in it. (I've also run it on Plasma.) To me, it feels like it helps my body deal with the other killing frequencies.
6. This likely hasn't worked because you have not hit on the exact pathogen and its frequency that is causing the problem. Scan by putting the TENS Pads on either shoulder. It should find it. A friend had the same issue. Scanning found the correct frequency (sebaceous cyst) Killing relieved her suffering. It also worked remotely. Additionally, try these mouth bacteria that cause pain in the mouth: Staphylococcus, Streptococcus and Clostridium bacteria. It is also worth trying Actinomyces Israeli or mouth fistula. Another option is the Hulda Clark Zapper program for which you shouldn't need the exact frequency.
For more details, please check the link:
https://www.facebook.com/groups/spooky2/permalink/1179643935530841/